Post by Mercedes Vargas on Jun 23, 2017 2:14:30 GMT -6
Contract Status: Legacy
[~]-WRESTLER INFORMATION-[~]


Picture Base: Jacqueline Bracamontes
Wrestlers Twitter: @mercymercyv
Wrestlers Name: Mercedes Vargas
Nickname(s): The Argentine Assassin; Mercy V; The Golden Girl (in 3WL); Latina Heat; Spanish Fly; The Verbal Napalm Bomb; The Black Rose Mamba/La Mamba Rosa Negra; The Black Rose Bombshell/La Rosa Negra Bombón; The (self-proclaimed) Best in the World (in PRIDE AFCW)
Age: 38
Height: 5 ft 7 in (1.70 m)
Weight: 125 lb. (57 kg; 8.9 st)
Hometown: Buenos Aires, Argentina
Personality: There isn't much that Mercedes hasn't accomplished in professional wrestling, even though she did start out as a late bloomer to the sport. While some believe that her best days are behind her at this stage of her career, she can still compete at a very high level. While Mercedes has done it all, she's not ready to hang up her boots quite yet.
Strengths:
*Experience/Veteran Status: Mercedes has been wrestling for nine years, so she knows her way around the ring (she's wrestled over 400 matches in that time). She's a decorated champion and an international superstar, having traveled the world (over 190 cities in over 40 countries on six continents), including most of the United States (save for five states), Canada, Mexico, the United Kingdom, France, Japan, Germany and Australia.
*Versatility: Mercedes can adapt to any situation or opponent put in front of her and isn't afraid to mix it up in a brawl if the situation calls for it.
*Fighting Style: Mercedes complements a well-rounded mat game with a pretty lucha libre style and often lethal stiff kicks, so she can slow or speed up the pace of the match on a dime
*Getting Under the Skin of Opponents: Mercedes isn't afraid to speak her mind and is very proud of her feisty, genuine personality. She generally keeps to herself, but when someone speaks ill of her, she brings the house. If she's pushed, she's not afraid to push back.
Weaknesses:
• Showboating: Mercedes loves playing to the crowd and takes any and every opportunity to showcase her superiority, especially against inferior opponents. Inside the ring, she normally goes for the intimidation game and loves to taunt her opponents to no end when she has the upper hand. Look for her to use an arrogant pin while posing or mocking the crowd, holding the forearm on an opponent's face during a pinfall attempt, lifting an opponent off the mat, usually by pulling the hair, during a seemingly effective pinfall in order to continue the match and beating up the opponent, or even stepping onto and over her opponent. If she is challenged early on in the match, she'll use the outside of the ring to rest, or ducking into the ropes to slow the match down. And if things REALLY become unbearable, she can become sadistic with a mean streak that can carry over into dangerous extremes.
• Strength Disadvantage: When facing opponents that utilize a power game, Mercedes adapts to hit-and-run tactics and outsmarting her opponent
• Cheating: Mercedes feels that she's too good of a wrestler to resort to cheating, but that doesn't mean that she won't if the situation presents itself or to retaliate against an opponent who did so to her. Look for her to use the ropes or grab the opponent's tights in order to steal a win.
• Arrogance: Mercedes looks to prove her worth as an in-ring competitor, and isn't shy on letting the entire world know about it. Basically, she's full of herself. At least that's how everyone else sees her. Somewhat hovering between confident and cocky, those who come across her usually end up asking themselves, "Who the hell does she think she is?" It usually doesn't take long for them to figure it out, though. Also, she can't seem to forget a grudge and goes as far as relaying the history on what led to the event in question.
Gimmick If Any: A woman who despite all her accomplishments in her wrestling career, STILL feels she has something to prove. In her mind, Mercedes feels she deserves more credit than she's given, though most people view her as just another bitter veteran way past their prime and trying to recapture her glory days. Unconcerned with popularity, her focus is only winning more championships instead. A proper heel, no backtracking or running away. Also, showman who plays to the crowd.
Her outspokenness and sharp tongue usually leads to her being hated by her co-workers, who find her anywhere from being delusional and a motormouth to extremely annoying, depending on the context, and she can't seemingly forget a grudge, going as far as relaying the history on what led to the event in question. On occasion, she is shown to be obnoxious and breaks into accented, finger-waving Spanish to annoy the crowd or her opponent, which she finds invaluable assets, especially when it comes to trash talking, which she finds herself surprisingly good at.
Alignment: Chaotic neutral to heel
[~]-ENTRANCE DESCRIPTION-[~]
Entrance Theme Music:
"Hold Me, Thrill Me, Kiss Me, Kill Me" by U2 (June 2, 2013 - present)
Entrance Description: Suddenly, the arena lights turn off and the crowd is hyped up for what was in store. As the opening of "Hold Me, Thrill Me, Kiss Me, Kill Me" by U2 blares across the PA system, the mood of the crowd changes instantly and the arena is under the subtle glowing of the lights. As the lyrics finally kick in, a figure emerges; the highlight of their attire is being under the illusion. Mercedes Vargas stops short of the entrance ramp, hands on waist, and overlooking the crowd.
RING ANNOUNCER: Making her way to the ring, from Buenos Aires, Argentina, weighing in at 125 pounds…MERCEEEEEDEEEES VAAAARGAAAAS!
(Viene entrando su camino a la cuadrilátero, de Buenos Aires, Argentina…pesando de 56 kilos…MERCEEEEEDEEEES VAAAARGAAAAS!)
Cheers, boos and catcalls soon greet her. Oblivious and yet satisfied with their reaction for several seconds, she flips her long hair, then makes her way to the ring. As she goes up the steps and walks to the end of the ring apron, she climbs to the turnbuckle, then turns her head back as the camera shows her determined expression-perhaps a message that her opponent will be in for a tough fight. She vaults into the ring and walks over to the opposite corner where she relaxes along the corner ropes while waiting for her opponent(s) to arrive.
[~]-WRESTLING MOVES-[~]
You may add more to this list if you wish.
TOP 22 MOVES (in alphabetical order)
1.) Body scissors to a seated opponent, sometimes while applying a dragon sleeper or full nelson hold or rolled over into a double leg nelson/Gedo Clutch pin
2.) Catapult backbreaker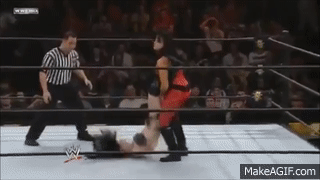 3.) Corner foot choke, taking advantage of the full five-count and mocking the referee while counting along in
Spanish
and before being warned by the referee, releasing the hold and yelling at the referee "I have until five!/¡Tengo hasta cinco!"
4.) Discus clothesline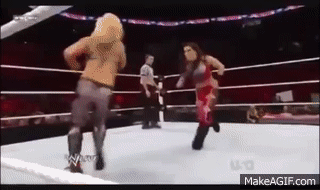 5.) Drop toe hold, sometimes used illegally to force an opponent into a chair or other elevated weapon, to force an opponent face first into the turnbuckle, or occasionally as a setup move into a double toed leglock/surfboard submission, hair pull curb stomp or the Red Peril II


6.) Flapjack, sometimes followed by a kip-up, or stungun/hotshot to an opponent into the turnbuckle or ropes, often used as a counter to an oncoming opponent

7.) Front-flip facebuster/forward somersault cutter to a kneeling opponent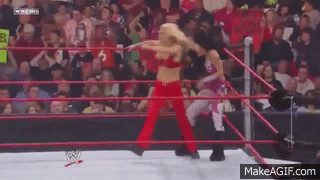 8.) Hair-pull curb stomp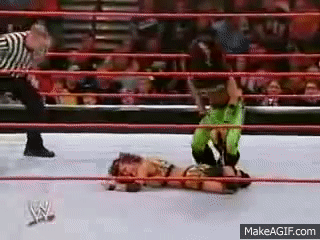 9.) Hair-pull mat slam, sometimes using a rope-aided variation as a counter
10.) Hair-pull over-the-shoulder snapmare, sometimes followed by:
- A transition to a submission hold, usually a grounded sleeper hold, body scissors, or the Red Peril
- Baseball slide
- Big boot to a sitting opponent's face
- Front-flip facebuster/forward somersault cutter
- High-speed roundhouse kick
- Rolling necksnap
- Running knee smash
- Running low-angle dropkick
11.) Handspring back elbow (sometimes using a double or triple rotation), sometimes followed by a
- Corner foot choke
- Bulldog
- Gator roll
- Monkey flip
- Preemptive Strike (a series of quick jabs to the face and chest of an opponent)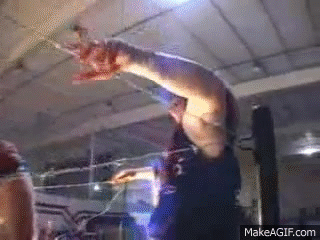 - Rolling front chancery
- Running cross body block
- Step-up Enziguri
12.) Headscissors, hurricanrana or tilt-a-whirl DDT, sometimes to an oncoming opponent or a diving variation, sometimes from the second rope or off of the ring apron
13.) Missile dropkick
14.) Monkey flip
15.) Multiple pinning variations
- Back bridge, sometimes preceded by a double leg takedown
- Back slide, sometimes while bridging and occasionally preceded by a sitdown hangman's neckbreaker
- Bridging Floatover

- Crucifix
- Gannosuke Clutch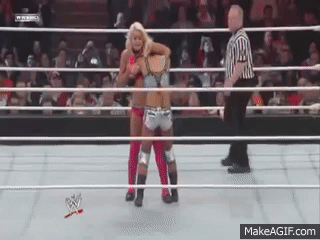 - Jackknife

- La Magistral

- Manami Roll
- Oklahoma Roll

- Schoolgirl Pin

- Small Package

- Victory roll, sometimes used as a wheelbarrow variation, or as a wheelbarrow bodyscissors counter

16.) Multiple stomps while circling a fallen opponent
17.) Plancha/slingshot crossbody, suicide dive or a Topé con Hilo/Giro to an opponent standing outside the ring
18.) Rope aided lungblower/backstabber or drop down or arm trap neckbreaker onto the knee to an opponent trapped in the ropes
19) Short-arm knife edge chops (anywhere from 3 to 5) and finished with a Short-arm clothesline
20.) Slingshot or springboard leg drop, sometimes to an opponent draped over the second rope, or from the top rope
21.) Spinning roundhouse kick, sometimes to the side of a seated, kneeling, rising or bent over opponent's head. Occasionally will use a reverse heel kick to the back of the head)
22.) Various evasion techniques, including:
- Bridging/Matrix
- Leapfrog
- Pendulum kick
- Splits
TRADE MARK MOVE & DESCRIPTION
1.) 2 to Tango/Tango for Two (Arm twist/hook kick combination)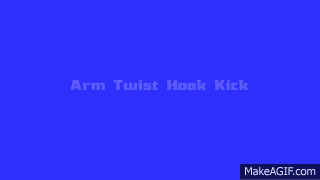 2.) Be Still My Heart (Savate kick or a superkick. Occasionally used as an alternate finisher)
3.) Double Jeopardy (Tilt-a-whirl backbreaker with AUTHORITY to an oncoming opponent followed into either a falling neckbreaker or snap inverted DDT)
4.) Peligro rojo/ Red Peril (Lotus lock, sometimes preceded by a full nelson bomb or rolled over into a double leg nelson/Gedo Clutch pin. Often used to wear opponents down rather than to actually decide a match)
5. Free Form Jazz, Module I (Flying/running clothesline, followed by a running back elbow, a double axe handle, sliding through the opponent's legs or evasion and finished with either an a ropewalk armdrag, hiptoss or float over neckbreaker or a hurricanrana or crucifix headscissors
6. Free Form Jazz, Module II (Series of running/flying clotheslines, followed by a Japanese arm drag, an inverted atomic drop, a spinning sole kick to the opponent's midsection, a standing dropkick and finished with either the Two to Tango or Be Still My Heart. She occasionally adds a slingshot or springboard legdrop or springboard moonsault for a pin attempt to end the cycle)
FINISHING MOVE
1.) Black Rose Overdrive (Inverted Death Valley Driver/Burning Hammer, usually to opponents that are similar in size as her or smaller)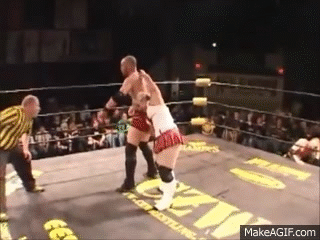 [/URL]
2.) Mercy Shot (Gory bomb, normally preceded by a kick to the midsection of an opponent)
3.) Cortina Roja/Red Curtain (STO backbreaker followed into a reverse STO, snapmare driver, full nelson facebuster, or forward Russian legsweep. Usually performed after ducking a punch or a clothesline and is often used to finish off lesser ranked competition)
4.) Peligro rojo 2/Red Peril 2 (Stryker Lock/Reverse figure four leglock, sometimes preceded by a dragon screw leg whip or drop toe hold)
[~]-MISC INFORMATION-[~]
Weapon Of Choice: Lead pipe
Match Of Choice: Singles competition
[~]-BIOGRAPHY-[~]
Superstar Bio:
Originally from Buenos Aires, where she remained until 21 (the legal age of majority at the time in her home country) before moving to the United States. Mercedes never took wrestling seriously, but eventually changed her mind when she settled in the States. She split her time between Chicago and Moline, Illinois, where she joined a wrestling school and graduated in 15 months while taking up the occasional modelling, acting or singing engagement to help pay for travel. It didn't take long to impress talent scouts of her natural wrestling abilities and she started out touring the Illinois and Midwest independent circuits for two years before putting her career on hold to focus on modelling and acting full time. After three years, Vargas picked up her wrestling career and returned to the independent circuit for a few months until signing with the all-female London promotion Divas Unleashed in late December 2008, making her debut in January 2009
Mercedes has traveled the world, has gone on to win various awards and honors and became a multi-time champion, including being a multi-time world champion, tag team champion and reigns as a television and international champion and all in less than ten years in the business. In addition to Spanish, Mercedes is also fluent in English, French, German and some Italian. Her older brother, cousin and aunt all live in the United States while her parents splits their time between Argentina and the United States. Mercedes went to college in Mexico and has a degree in Communications. An avid sports fan, she supports her native Argentina side in football and follows the major sports leagues in the United States, mostly the New York teams (the Knicks of the NBA, Rangers of the NHL, Giants of the NFL and Mets in MLB) and college sports on occasion. Mercedes became a US citizen in 2009 while maintaining her Argentinian citizenship.
Past Accomplishments:
Divas Unleashed (DU) Rockford State Champion
DU Diva of the Month (June 2009)
2009 DU Femmy Award for Best Newcomer of the Year
Listed #44 on DU's "The 50 Greatest Divas Ever" list
Inaugural All-Female Pride Wrestling (AFPW) Tag Team Champion (w/Kelly Knite as The Knites of Mercy)
Inaugural World Women's Wrestling League (3WL) Sky High Tag Team Champion (w/Crystal Hilton as Ebony & Spice 2.0)
3WL Television Champion
3WL Unified World Champion (consisting of the 3WL World Championship and the LIWA World Championships)
3WL World Champion
Ladies International Wrestling Alliance (LIWA) World Champion
Fourth 3WL Triple Crown Champion (Sky High Tag, Television, and Unified World Championships)
2011 3WL Athena Tag League Tournament (w/Crystal Hilton as Ebony and Spice 2.0)
2011 3WL Athena Cup Tournament
3WL Hall of Fame Inductee (Class of 2013)
3x 3WL Athena Award Winner
- 2013 Athena of the Year
- 2013 Best Tag Team of the Year (w/Crystal Hilton as Ebony and Spice 2.0)
- 2013 Moment of the Year (9-month unbeaten streak)
New Championship Wrestling (NCW) Starlets Tag Team Champion (w/Kathleen Conway as Opportunity)
2012 NCW Starlets Road to the Gold Tournament Finalist
Listed No. 15 on NCW's The Top 50 NCW Starlets of All Time list
PRIDE All Female Championship Wrestling (PRIDE AFCW) International Champion
Aesop World: Women's Pro Wrestling (AESOP World) Queen of AESOP World Champion
3x Sin City Wrestling (SCW) Bombshell Roulette Champion (record-tying)
3x SCW World Bombshell Tag Team Champion (w/Traci Patterson (2) and Delia Darling)
2x SCW World Bombshell Champion
SCW Bombshell Internet Champion
SCW World Mixed Tag Team Championship (with Kain)
Third SCW Bombshell Triple Crown Champion (Bombshell Roulette, World Bombshell Tag, and World Bombshell Championships)/Sixth SCW Triple Crown Champion (only 3x winner)
Second SCW Bombshell Grand Slam Champion (Bombshell Roulette, World Bombshell Tag, World Bombshell and Bombshell Internet Championships)/Fourth SCW Grand Slam Champion
One of two wrestlers to win every championship in SCW and the only female wrestler to win every championship in the Bombshells Division
2x SCW Year-End Awards Nominee
- 2014 Woman of the Year (Runner Up)
- 2014 Feud of the Year - Mean Girls vs the Bombshell Roster
2014 Femme Fatales Wrestling (FFW) Award Feud of the Year Nominee – Mercedes Vargas vs Valentina Lozano (Runner Up)
Imperial Wrestling Federation (IWF) Ruby Champion
3x IWF Awards Nominee
- 2014 Diamond of the Year (Nominated)
- 2014/2015 Bitch of the Year (Nominated)
The Other Side (TOS; formerly Other Side of eWrestling (OSeW) Awards
- 2011 OSeW Year-End Rankings: Named No. 6 of the best 77 female singles wrestlers, an eight mark improvement from 2010 (No. 14 of the best 148); Initially started out at No. 21 (of the best 112) in 2009 rookie year
- 2011 OSeW Mid-Year Rankings: Named No. 20 of the best 100 female singles wrestlers
- 9x OSeW/TOS Awards Nominee
- 2x Heel of the Year (Honorable Mention, 2009; Nominated, 2011)
- 2x Feud of the Year (Nominated in 2009 – Mercedes Vargas/Veronica Valiant vs The Seton Sisters (Laura and Madison Seton) – Divas Unleashed's Sunday Night Exile, December 13, 2009; Honorable Mention in 2010 – vs Kassandra vs Jennifer Yu at 3WL 8th Anniversary Show in a 3WL Television Championship triple threat Zombie Lumberjack match, October 10, 2010)
- 2x Most Improved (Nominated in 2010; Won in 2011)
- 3x Most Underrated (Honorable Mention in 2009 and 2010; Won in 2011)
[~]-MANAGER INFORMATION-[~]
Manager's Name: