Post by Tad Ezra on Mar 5, 2018 3:06:59 GMT -6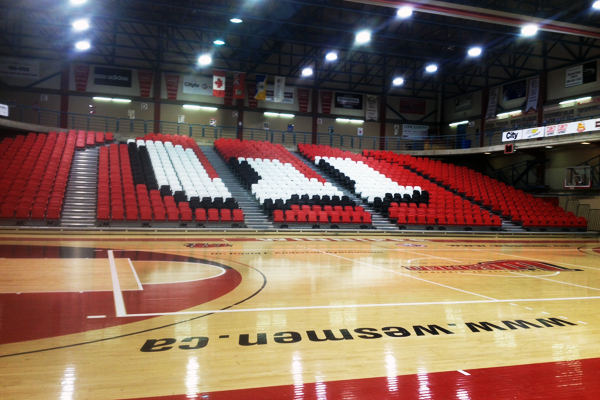 Sunday 4th of March, 2018 8pm EST - Duckworth Centre- Winnipeg, Manitoba - Capacity: 1,780 (SOLD OUT!)


Nora: Welcome everyone to another installment of Northern Lights Avalanche.

Arnaud: We have 4 great matches for you all tonight!

Nora: Yes we do, all tag team matches, two being hardcore matches, one match will help determine who the number contender will be for one champion while the other will get to decide who they will face first.

Arnaud: This sold out crowd of 1,780 fans are ready to see some action!

Nora: Yes they are some more so then others!

Arnaud: What do you mean by that?

Nora: The camera have picked up a few of the who's who if you know what I mean.

Arnaud: I did see a lot of fans gathering over there by the 3rd row... Oh That's Honor Champion Alex Jones!!!

Cameras cut to Alex Jones and his wife as they wave to the camera. Camera pans around and spots someone else.

Nora: The twins Stacy and Debbi Ruin are here, I'm sure they will be rooting for there sister Melissa Ruin.

Camera pans around a bit more as we see Blasted Monk sitting with some Kung Fu Students. a few rows the camera zoom in and the whole arena goes nuts as they show 2010 Olympic gold medalist Winnipeg's very own John Morris. The cameras go back to Nora and Arnaud.

Nora: Looks like were ready to get started with the first match. Take it away Liam!!!


Liam:
This opening match is set for one fall!!!
"Thunder" by Imagine Dragons begins playing over the speakers as the lights go haywire. As the hook begins, Kader comes out onto the stage and jumps around, showing off his oiled chest, as well as his power. He roars out at the crowd.
Liam:
Coming to the ring from West Hollywood, California by way of Bushehr, Iran, standing at 6'7" and weighing in at 297lb, he is... Kader Hasheem!!!
The crowd gives off a mixed reaction as Kader shouts out at them. He continues down the ramp, rubbing at his nose before flinging his baseball cap out into the crowd. He walks to the head of the ring and he grabs onto the top rope, bringing himself up onto the apron. He climbs in over the top rope before walking around the ring, gauging the crowd reaction. He comes to the center of the ring and let's out a monstrous roar. He then settles into the corner as the lights return to normal.
Liam:
And his partner... From Oakland, California... Devin "Shorty" Tyler!!!!
Lights go down as "Shorty Bounce" by Lil Wayne starts up. As the lyrics start "Shorty" Devin Tyler comes out onto the stage, shuffling across the stage with swag. He stops center stage and throws his arms out to the side and spins around twice as he bounces down to the ring. "Shorty" takes the bottom rope to help pull him up onto the apron. He steps under the bottom rope and bounces around the ring with his arms out at his side, welcoming whatever reaction he gets.
Liam:
And there opponents!!! First from Chicago, IL... He is the Judge, Jury and Executioner... Ethan McBride!!!
"I Don't Care" by Apocalyptica begins to blare through the arena as Ethan McBride emerges from the back with a slow, methodical pace glaring with smug, dirty looks at the fans as he makes his way to the ring.
Liam:
And his partner, making his debut to Northern Lights Wrestling!!!
Lights go down low as "The Hills" by The Weeknd bounces through the speakers in a seductive tone and Dorian Brown comes out in a brown leather biker jacket and matching pants. He has a bar of chocolate in his hand and he bites a piece off the tip before handing it to a fan along the aisle. He swerves them hips before he rips off the pants to show off his silky tights that have chocolate bar brick prints over it. He loses the jacket to show off his body, moving hands up and down stomach and chest.
Liam:
Ladies and gentlemen, give it up for the Memphis native weighting in at 224lb and standing at 6'1 he is Dorian Brown!!!
Dorian comes to the ring as he gets on the apron. He puts one leg through the ropes and stops to swerve his hips again but with more power this time. He comes inside that ring and drops to his hands and knees as he moves across the ring seductive until he gets in the corner. He stands up and lick his lips as he watches the audience fall under his spell.
Ding! Ding! Ding!
Arnaud:
Kader claps his hands together for Shorty as he steps up to Ethan. Ethan laughs and shoves Shorty down to the ground by his head. Kader steps into the ring, ready to do something when referee Jade Pham stops him, ordering him to the outside. Ethan picks Shorty up and gets a Dick Punch for his troubles!
Nora:
Ethan falls to one knee as Kader stops objecting. He holds his hands up in surrender as Shorty stomps on Ethan repeatedly. He mounts him and begins slapping the sides of his head as he shouts out trash talk. Dorian actually cheers on his opponent!
Arnaud:
Shorty gets up as he dares Dorian to do something, but Dorian continues to clap, pointing at Ethan. Shorty turns back around and hits an Elbow Drop before kicking Ethan in the side. He walks over and tags Kader in. Kader picks Ethan off of the mat and drags him right into a powerful series of repeated Shoulderbutts.
Nora:
He then carries him over for a Northern Lights Suplex, hooking the leg.
1!
2!
Nora:
Dorian comes inside and breaks up the pin. Kader gets mad as he tries to intimidate Dorian, but Dorian shrugs it off and exits the ring slowly, showing off to Kader. Kader turns his attention back to Ethan as he lifts him off of the mat. Ethan backs Kader into the corner and tags Dorian in.
Arnaud:
Dorian gets inside of the ring as Kader Spears him into the ropes. He Irish Whips Dorian into the corner and drives a knee to his head. He stomps around the ring screaming angrily, roaring. He comes back to the corner and rubs his knee into Dorian's face, tagging Shorty into the match.
Nora:
Dorian receives double stomps from Hasheem and Shorty together. Kader looks to Shorty, who jumps in Kader's arms. Kader tosses Shorty into Dorian cannonball style. Shorty hooks the leg.
1!
2!Kickout!
Arnaud:
Shorty gets up as Dorian sweeps his legs out from under him. He pulls Shorty's legs up into a Sharpshooter as he watches Kader try to get past Jade to break it up. Shorty begins to clench his fists, ready to tap when Kader hits a Big Boot to Dorian's face. Kader picks him up and tosses him right into Ethan, forcing the tag as he talks trash.
Nora:
Ethan climbs in the ring, but passes Shorty up as he goes straight for Kader with a club to the back. Kader turns around with a right hook that asserts his dominance. He kicks Ethan in the mid section and nails a Jackknife Powerbomb. He picks Shorty up into a Military Press Slam, dropping him on top of Ethan.
1!
2!
3!
Ding! Ding! Ding!
Liam:
Here are your winners… "Thunder" Kader Hasheem and "Shorty" Devin Tyyyyyyylerrrrrr!!!
"Shorty Bounce" by Lil Wayne plays over the speakers as Kader lifts Shorty up onto his shoulders. Shorty shouts out at all of the fans to look up to him. Kader walks him around the ring to rub it all in their faces before setting him down and walking to the ropes. He and Shorty promptly leave the ring and move to the back as they are talking.



Backstage, Gemma Frost is seen standing by with a microphone in hand. She has a faint smile on her face as Shorty and Kader Hasheem walk through the curtains. She immediately behind speaking to them.

Gemma: That was pretty impressive work out there. The teamwork was surprisingly good. Are we seeing a the first male tag team forming?

Shorty: Listen up, Sugar Tits. This has nothing to do with tag teams and everything to do with the Avalanche Championship. Me and Kader have been screwed out of that title more times than we can count. We deserve better than jerking a goddamn curtain! Yo, Kader my man… you gotta take this over. I can't right now. I just can't…

Kader: The disrespect is thick in here. The hatred is real. The jealousy is at an all-time high. We put everyone on notice, but they refuse to heed the warning. We tried to do the right thing. We tried to play nice, but as you saw out there, we are tired of waiting, and waiting, and waiting for a fair shake.

Kader doesn't even pay full attention to Gemma as he looks directly into the camera. He strokes his chin as he tilts his head to the side.

Kader: Even though I have won all but one match. Even though Shorty has Dick Punched nearly every man on this roster. People still are not paying attention. And Tad Ezra thought it would be a funny joke to push me and Shorty down the card. He thought he could have a field day at our expense, we did what he knew we would ultimately do. But we did it faster and better than he expected. We ran through Ethan and Dorian, just the same as we would with every other name on this roster. Who's laughing now?

Shorty and Kader start to laugh almost hysterically as Gemma joins along. All three stop at the same time as Shorty and Kader glare into the camera. Kader looks like he has more he wants to say, but instead, he just shakes his head and puts his hand on Shorty's shoulder.

Kader: Let's go little man. We got some plans to discuss…

With that, Kader and Shorty walk off together, leaving Gemma standing alone and scoffing at the comradery.



Liam:
This next match is a Flaming Tables Match!!!
Don't Chase me by Shea Fisher Starts to play on the PA System; Ivory Sullivan makes her way out.
Liam:
First on the way to the ring... From Las Vegas Nevada... Ivory Sullivan!!!
Ivory stands on the ramp way soaking in the boos from the crowd. She takes her time walking down the rampway.
Liam:
And her opponent!!!
Blame Canada starts to play as the arena showers Melissa with boos.
Time's have changed
Our kids are getting worse
They won't obey their parents
They just want to fart and curse
Liam:
On the way to the ring from Scottsdale, AZ.... Melissa Ruins!!!
"No, blame Canada, blame Canada
With all their beady little eyes
And flappin' heads so full of lies
Blame Canada, blame Canada
We need to form a full assault
It's Canada's fault"
The crowd boos louder as Melissa finally walks down the ramp. Melissa looks at the crowd with a disdain look on her face. She walks down unhappy in the middle of the ramp way so that neither side of the crowd can touch her as she walks down.
"Blame Canada, blame Canada
There not even a real country anyway"
The crowd erupts as they shower both ladies with boos so loud that Melissa's entrance music can no longer be heard. Melissa stumps her feet as she walks up the ring steps. Once at the ring apron she looks at the crowd and gives them all the middle finger causing the crowd to boo even louder at her. She smiles at her puppets then gets in the ring as she waits for Apathy and Celeste to make there way to the ring.
Liam:
And there opponents!!!
The lights in the arena drop down and "Sex Metal Barbie" by In This Moment begins playing. The ring crew brings out a wooden plank, meant to resemble the Mean Girls Runway of yester-year, fastening it tightly to the ring, as it looks like it will fall apart at any minute. Before they can even disperse, the curtains open, and Celeste is wheeled out onto the ramp in front of a podium. A spotlight appears on her as a man dressed in a potato sack walks out behind her, helping her down onto the stage. She is dressed in a pair of red hot pants and a Mean Girls tank top tied just above the navel, and an opened hooded jacket. She has red streaks in her hair as she slightly pulls back her hood to show off her face and the obnoxiously sparkling tiara on her head, taking a drag from the cigar in her right hand.
Liam:
Making her way to the ring, hailing from Beverly Hills, California, standing at 5 feet 6 inches, and weighing in at 132 pounds... "Queen C"... Celeste North!!!
She struts along the "runway" slowly, showing off everything she's got, a cigar in her hands. She takes a puff of it and winks as she exhales slowly. She then flips her hair from side to side seductively as men wearing dress suits and potato sacks over their heads line the runway, taking photos of her. Celeste takes a puff from the cigar before dropping it to the arena floor. The first hooded man holds the ropes open for her as she enters the ring. She struts around to the music for a moment, shedding her black hooded jacket.
Liam:
And the last opponent!!!
The lights dim down as the opening beat of "Tear You Apart" begins playing. Once the words begin, a shadow emerges from the back as a slow strobe of white light shows off her curves. As the music picks up, the lights come on to see Apathy standing at the top of the ramp, her hands on her hips, and an expressionless face glowing in the light.
Liam:
Making her way to the ring by way of Los Angeles, California, weighing in at 125lb and standing at 5'10" she is... Queen of Apathy...
As she is announced, she struts down to the ring, hearing the fans trying to goad emotion from her. She doesn't give in as she slides under the bottom rope. She turns over on her back and worms her way across the ring before pulling herself part way up in the corner as she waits.
Ding! Ding! Ding!
Nora:
Celeste comes right out of the gate as she attacks Melissa Ruin. She knocks her to the ground and begins pummeling her. Meanwhile, Ivory grabs hold of Apathy and goes for a Russian Leg Sweep, but Apathy rolls around and grabs hold of Ivory's hair and slams her head first into the mat.
Arnaud:
Celeste holds no punches, literally, as she pounds repeated fists into Melissa's face. Melissa screams out as she reaches up and rakes Celeste's eyes before kicking her off. She stumbles to her feet, holding onto her head before she starts stomping on Celeste. She screams insults at her.
Nora:
Meanwhile, Apathy is dragging Ivory up to her feet as she Scoop Slams her back to the ground. She lifts her up again, and sends Ivory into the ropes. She goes for a Clothesline, but Ivory ducks underneath. As Apathy turns around, Ivory rebounds off of the ropes and goes for a Cross Body, but Apathy ducks it. Apathy turns around as Ivory gets to get feet and catches Apathy with a Superkick.
Arnaud:
Ivory turns her attention to Melissa and Celeste as she mutters to Melissa. Both ladies nod their heads as they lift Celeste from the mat. Ivory looks to the outside, pointing to the tables. They toss Celeste into the ropes and catch her on the rebound with a Double Back Body Drop into the table. It cracks but does not break. Ivory goes for a high five to Melissa, but instead, drags her in for a Hip Toss to Melissa, sending her over and on top of Celeste, causing a mess on the outside.
Nora:
Ivory screams out "I don't need any fucking alliances!" as she picks Apathy up from the mat. She knows that you can only get the win by putting your opponent through a flaming table, and that it is not elimination style. She is wearing her opponents down so that she can do what is necessary. She hits an elbow strike to Apathy's face, following it up with an Irish Whip to the corner. As Apathy bounces back, Ivory catches her with a Belly to Belly Suplex.
Arnaud:
Ivory is on fire with asserting her dominance in this match. She continues to punish Apathy as she leans down and locks on a Camel Clutch. Apathy grunts as she reaches out for the bottom rope. Melissa slides in the ring to break it up and to get her revenge, but Celeste grabs into her foot. As Melissa tries to shake it off, Celeste pulls her to the outside. She nails a picture perfect Jawbreaker before she slams the ring steps on top of Melissa.
Nora:
Ivory is waiting for Apathy to tap out, but Apathy refuses to give her the pleasure. She inches her way to the ropes. Meanwhile, Celeste dumps gasoline over a table. She lights it up as the fans cheer. She removes the steps from off of Melissa as Ivory looks over her shoulder. She shouts out at Celeste, as the two begin shouting at one another.
Arnaud:
Ivory steps out onto the apron as Celeste charges at her. Ivory catches her in the face with a boot as Melissa grabs onto her foot. Melissa gets onto the apron as the two exchange angry blows with one another. Melissa ducks under one as she latches onto Ivory's waist. However, Celeste jerks onto Melissa's leg, trying to trip her up. However, she fights it, only to get a Catapult Bulldog from the apron, and through the table by…!
Ding! Ding! Ding!
Liam:
Here is your winner… Queen of Apathy!
Melissa quickly rolls off of the table as the ring crew sprays her down with a fire extinguisher. Queen of Apathy steps over the mess, shrugging her shoulder as referee Ryan Richards helps her into the ring. He raises her arm up, but she clearly doesn't care. All while "Tear You Apart" is playing, Ivory is stomping around, shouting at Apathy and the referee about the decision. Celeste just can't believe it as she sits there, simply shaking her head. Apathy goes to leave the ring when Melissa attacks her violently from behind. She spins her around and smashes her head into the ringpost. Celeste comes right over to Melissa, but Angel Kash runs down the ramp with a compact in hand. She blows powder in Celeste's face. Angel and Melissa send Celeste and Apathy into one another. Melissa picks up the ring steps and slams them into Celeste and Apathy, smashing them into the ring post. She high fives Angel as Angel kicks the dirt off of her shoes at both of them. Her and Melissa share a laugh as they walk up the ramp.



The camera cuts backstage to reporter Gemma Frost she smiles as the camera zooms into her.

Gemma: I was walking around backstage and came across someone we here didn't expect. Everyone, please welcome Hardcore Tag Team Champion, Eric Weaver.

The crowd pops in the background as the camera zooms out, we see Eric to Gemma right as she turns to look at him.

Gemma: Welcome Eric, are you enjoying the show?

Eric: Oh yes, I'm a big fan, the title matches at Warzone was off the hook. Celeste had a great match vs Stacy last Showdown. In fact, those two, as well as Angel Kash, have created some buzz, while Angel has her eyes on Shelby Holt and the Avalanche Championship. Something I plan on doing. Alex Jones the Honor Champion. He has only held it this long because I have yet to face him for the title.

Gemma: I know he is here tonight.

Eric: Oh really? I haven't seen him around.

Gemma: we have him on camera but he is with his family enjoying the show so I wasn't going to disturb him.

Eric: Don't worry, he won't be champion soon.

Gemma: Why is that?

Eric: I will be challenging him soon. He says he will fight anybody, anywhere but I bet he doesn't have the guts to face me. Alex knows that facing me means the end of his title run.

Gemma: Well he is here tonight so he has heard everything you just said.

Eric: And he is now thinking to himself how he is about to lose the championship real soon. He is sitting there embarrassed around the fans knowing he will lose. He sits there putting his head down knowing one on one I will take him out with ease.

A split screen appears as the other screen shows the ring crew removing pieces of the table as the fans pop to Alex Jones jumps the rails and running up the ramp.

Eric: Alex is okay but just okay at best.

Eric sees Alex coming towards him.

Eric: You want to go right now?

Alex kicks Eric in the stomach then grabs Eric to drop him with his Dagon Sleeps "Pedigree". Gemma looks at Alex with a smile as the crowd pops in the background.

Alex: Hey Gemma, I'm always willing to give a few minutes for an interview. I'm a better choice, not this crap like Eric Weaver. I'll go back to my seat to enjoy the show now.

Alex turns as Eric sits up. Alex hits Eric in the head with a Stiff Martial Arts Kicks. Alex stops to walk away as Eric slowly tries to get up but can't and just lays there.




Gemma is standing inside the ring.

Gemma: Please welcome the man you have all come here to see tonight, the men's Avalanche Champion, Winnipeg's very own, Stewart Mason.

The Hunter blasts through the Duckworth Center, Gail steps out and pumps you the hometown crowd, Stewart steps out, and the crowd cheers their hometown boy, he takes in the roar of the crowd as he makes his way to the ring. He walks up the ring steps and stands on the apron, Gemma opens the ropes and Stewart and Gail enter. Stewart stands next to Gemma.

Stewart: You hear that Gemma, that what a pop sounds like.

Gemma: To the surprise of no one you won the Avalanche title at Warzone over Jerry Can't

Gemma chuckles.

Gemma: I'm sorry but that still funny, any way you won the title and at your coronation last week, Shelby Holt tried to steal your spotlight.

Stewart: Someone like Shelby Holt could never steal my spotlight, then again there is no one that deserves the spotlight more than me, well maybe one person.

Gemma: I think I know who you're talking about, so tells us why you selected that person to be your partner here tonight.

Stewart: Gemma, when I heard Angel Kash at warzone and then again last week, I was impressed, when seeing speaks it's like I'm listening to myself, like myself who is the kingpin of the men's division, Angel Kash is clearly the Queen of the women's division and it only a matter of time before she is wearing the Women's title. When Tad Ezra made the mixed tag match last week and told me I could have any partner I wanted, Angel Kash was not only an easy choice she was the only choice, and tonight Shelby Dolt, and Jerry Can't find out the pairing of Stewart Mason Angel Kash is mon-ey, money, and together as champions we will make this company a ton of it, Gemma, this match tonight will be so easy, these fans won't have enough time to finish their beer.

Superficial by Heidi Montang hits over the public address system as the fans groan and boo loudly knowing that the Trillion Dollar Princess was set to arrive. As the lights flash green and gold Todd and Leroy come out first before the arrogant well off princess make her way out with her hands outstretched soaking in the boos and the camera flashes as she comes out dressed in a classy back dress gold high heels, and a gold Gucci handbag. As she poses arrogantly at the top of the ramp she begins yelling at the fans to shut up and bask in her presence. She then begins her supermodel strut down to the ring as she soon sticks her hand rudely in the face of one of the fans at ringside As she soon yells at Todd and Leroy to lower the ring ropes which they do. As she enters the ring she poses arrogantly as Todd, and Leroy claps before she walks over and shakes hands with her partner standing next to the interviewer as the fans greet her with a loud Angel sucks chant. Which causes the blonde to roll her eyes As Gemma begins speaking in her normal tone.

Gemma: Angel glad you have arrived, I have been wanting a word with you since you have arrived. I mean NWL is clearly your oyster what you did to Kandy Kaine was a service.

Angel smirks letting out a haughty laugh motioning that she is about to speak as the boos only get louder.

Angel: Thank you for understanding what these peasants fail to understand that Angel Kash is here to provide a service that service is to make this woman division worth something. See as long as that rodent Shelby Holt is champion no one will take this division seriously why? Because they know deep down though they refuse to admit it shes a joke shes beneath the standard and she is worthless. Just like Kandy Kaine and I took out that trash last week and I know these people are mad about that but to damn bad because no one is gonna stop me from getting what I want. That means none of you, Celeste, Kandy, Shelby and even Tad Erza himself can stop me you know why? Because I have it all.

The fans boo at the gloating of the rich blonde, who smirks in a coy manner.

Gemma: Agreed, now Stewart here was singing your praises before you came out here and why he chose you as his partner what you think about teaming with your Avalanche champion?

Angel smirks before nodding.

Angel: Well he is very smart because he is right on the money when it comes to me ruling the women's division. See Shelby is holding my title and she is holding it only for the time Tad can protect her. Because once he has no choice but make a one on one match between ourselves you will see what true natural superiority is all about when I take that belt from her but for now I get to whip her all over the ring I mean what can be better than teaming with the world champion to destroy a fake champion? I mean sipping martinis at my Hamptons Estate would definitely be better than wrestling in front of these morons but then again I am a giver. And I am giving this country the gift of my presence and you're welcome.

The boos get louder as Angel poses arrogantly.

Stewart smirks.

Stewart: Couldn't have said it any better, Tonight Winnipeg is gonna witness the slaughter of Jerry Cann and Shelby Holt, and like my partner stated so elegantly your welcome.

Gemma: I have no doubt about that.

Stewart's music plays and the show fades to commercial.
Liam:
The following contest is scheduled for one fall and is a Barbed Wire Match!
A fog begins to pour out from the back as "Dead City Radio" plays. White and red lights flash to the beat of the music. Drew comes out from behind the curtains with his arms in the air.
Liam:
Please welcome to the ring at this time, straight from... Tobias Carroll's Nard Sack? By way of Detroit Michigan, standing at 5'12" and weighing in at 210lb, he is Drrrrewwwwwww Maaaaasterrrrrssss!!!
He throws them down to his side and runs down the aisle and jumps on the apron. He spins around, jiving his hips to the music before ripping his leather jacket off and tossing it over his shoulder. He vaults over the top rope and comes to the center of the ring as he bangs his head to the music, jiving more.
Liam:
Introducing next, from West Hollywood, CA standing at 5'8" and weighing in at 165lb, she is Mz Holly Wood!!
"Hollywood" by Collective blasts over the sound system as a pink shadow box appears through the curtains. The silhouette of a lovely lady dancing is seen from the inside, seducing the crowd with her feminine wiles. It comes to rest at the edge of the stage, and after a moment, the lady inside kicks her way through the thin paper to reveal... Holly Wood! Mz. Wood if you nasty. She flips her blonde hair over her shoulder as she raises her arms in the air, loosening her hips before sashaying down the ramp. She climbs onto the apron, swaying her hips back and forth as she lowers herself down into a split position. She crawls under the ropes and does a sexy pose on the mat before leaping up, dancing around the ring to the music as she waits for her opponent.
Liam:
And their opponent, from Chicago, IL standing at 6'4" and weighing in at 265lb, he is… Rory "Rocky" Rockefeller!!!
"Drink Drank Drunk" by HELLYEAH starts playing as Rory comes through the curtains carrying a cocktail shaker, mixing it up. He walks along the aisle, looking for outreached cups that he pours little bits of his signature drink into their cups. After making his way around the ring, Rory sets the shaker down on the ring steps as he runs up the steps. Rory gets half way in the ring before rocking out to his theme music. He steps inside all the way and holds his fists in the air and walks around the ring.
Liam:
And entering last, from South of the border, standing at 5'8" and weighing in at 177lb, he is Ahuevooooo!!!
"Sueltate y Toma" by Reggae Black begins playing over the speakers when a red light shines from behind the curtains. As they open, the figure of Ahuevo is seen standing there. He bounces around to the beat of the music. He charges down the ramp, and as he makes it to the ring, he leaps through with a somersault, kneeling on one knee in the ring. He looks out to the crowd, pointing across them all in a circle. He then runs up the turnbuckle and does a flip off of it, landing on his hands as he walks across the ring to his corner on them before coming down to a crouching position as he looks around at his opponents.
Ding! Ding! Ding!
Arnaud:
The men are looking around at the barbed wire ropes, and then to one another. Ahuevo nods his head as he looks across the ring to Holly, Rory, and Drew. He bends over and slaps his knees as he draws in the cheers from the crowd. Drew uses the distraction to send Rory into the ropes, but Rory skids on his feet, trying to avoid the ropes. He falls forward to his hands and knees as the fans sigh.
Nora:
Ahuevo grabs onto Drew and sends him toward the ropes, but Drew jumps on Rory's back and jumps outside of the ring for a hard landing. Holly holds her hands up in surrender as she rolls to the outside of the ring next to Drew. Ahuevo steps into Rory's back and launches himself into Holly and Drew with a Flying Moonsault!
Arnaud:
Holly and Drew collapse underneath the weight of Ahuevo. Rory stands up, holding onto his back as he walks around the ring, getting the crowd to go crazy for him. Meanwhile, Ahuevo gets to his feet first. He goes to pick Drew up from the mat, but Drew charges him into the ring post!
Nora:
For a Barbed Wire Match, there isn't a lot of interaction with the barbed wire ropes. Holly gets up and spins Drew around. She twirls her hair a bit as she bites at her bottom lip. Drew licks at his bottom lip as he stops to flirt. Holly wraps her arms over Drew's shoulders, laughing and flirting until she pushes the back of his head against the barbed wire!
Arnaud:
You can take a girl out of the Mean Girls, but you can't take the Mean out of the Girl. Holly hits a Chick Kick to Drew. She then hits a Springboard Back Elbow to Ahuevo, bouncing his head off of the ring post. Holly prances around ringside, as the fans give off mixed reactions. She starts to walk up the ring steps as Rory welcomes her inside of the ring. She slowly obliges, trying her feminine wiles on him, but he tosses his fists up, ready for a fight.
Nora:
Holly runs at Rory, who easily lifts her up for a Pop Up Powerbomb, but Holly grabs into his hair and grinds into Rory's face, which instantly makes him lose control. Holly spins around and brings Rory down with a Hurricanrana Pin combination. Dylan Roberts goes down for the count.
1!
2!
Kickout!
Arnaud:
Holly looks disappointed as she stands up. Rory quickly brings her down for a Schoolboy Pin!
1!
2!
3!Kick Out!
Arnaud:
Holly gets her shoulder up at the last possible second. Drew is on his way in to break it up when Ahuevo spins him around. He goes for a kick to the midsection, but Drew catches his foot and holds on. Ahuevo hits a lightning fast Enziguri! He sizes Drew up and then goes for a Hip Toss, but Drew reverses it into a high Japanese Arm Drag, sending Ahuevo right into the barbed wire ropes!
Nora:
Ahuevo holds on as he shouts out in Spanish. After a few seconds, Ahuevo drops off of the ropes, ripping at his attire as he falls down. Drew reaches down to pick him up, but Rory tosses Holly over on top of them, knocking them down to the ground!
Arnaud:
Most of this match isn't taking place inside of the ring! Rory watches them stir on the outside as they slowly pick themselves up from the ground. Rory steps up to the top rope slowly as they get to their feet. He jumps off with a Flying Cross Body that levels everyone!
Crowd: This is awesome! This is awesome! This is awesome!
Nora:
Everyone is being good about avoiding the ropes, which is a smart tactic. Rory gets to his feet first as he picks Ahuevo up and slides him inside of the ring. He then picks up Drew and rolls him inside. He picks up Holly a sets her inside next. He slides in under the ropes. He picks Ahuevo up and Irish Whips him into the ropes. He sinks down, shouting out in pain. He picks Drew up and sends him into the ropes next, but follows it up with a Clothesline to really get Drew stuck into it with his bare skin!
Arnaud:
Rory picks Holly off of the mat and goes to send her into the ropes. However, Holly grounds her weight as best as she can before hitting a high kick to Rory's head. She uses every muscle in her body to send Rory into the ropes, following through with a Monkey Flip that tears up Rory's back! She hits a Monkey Flip on Drew as well. She looks to Ahuevo in the corner and she risks it all for a Ridin' Yo Face (Bronco Buster) that connects, scraping up her knees!
Nora:
The crowd goes wild with cheers as Holly holds onto her scraped up knees. She goes to the center of the ring, dragging Ahuevo. She then goes up top, looking for Sashay Away, but Rory picks her up and drops her right over the top ropes, crotch first! You know that tuck isn't tight enough to protect her secret bits!
Arnaud:
Poor, poor Holly… Rory picks Ahuevo off of the mat, looking for a Gorilla Press Slam! But Drew hits a Running Knee to the midsection. He trips up into this ropes, getting caught as Ahuevo brings him down with a Crucifix Pin!
1!
2!
3!
Ding! Ding! Ding!
Liam:
Here is your winner… Ahuevooooo!!!
Ahuevo raises his arms up in victory before rolling out of the ring, holding onto his back as he stumbles up the ramp, trying to celebrate through the pain.


We cut to the men's locker room as we see Jerry Cann getting ready for his second main event match for NLW, Jerry looks at the camera.

Jerry: Tonight I have a mixed tag team match with Shelby Holt as my partner. A Champion looking to take this company by storm at a young age. I take on the other Champion Stewart Mason. A veteran that has held titles, a man that knows what's it's like to lead the locker room. I'm a rookie so I know I'd be learning a lot from you tonight but make no mistake. I know what I'm doing in the ring and can surprise you with a submission held if you're not careful. I look forward to this match Champ, and it's an honor to be teamed up with Shelby the other champion, the leader of the women's locker room.

Jerry takes a deep breath.

Jerry: Game on.

Jerry leaves the locker room and looks down the hallway as he waits for his theme music to start so he can walk down the ramp for his match.
Liam:
The following contest is scheduled for one fall and is the Main Event! Already standing in the ring, is your Women's Avalanche Champion… from Bell, FL standing at 5'5" and weighing in at 112lb, she is Shelby Holt!!!
The crowd cheers as Shelby holds her belt high in the air. Clint Eastwood by Gorillaz starts to play
I ain't happy, I'm feeling glad
I got sunshine in a bag
Liam:
First on his way to the ring... he weighs in at 227 Ibs, from Las Vegas Nevada... Jerry Cann!!!!
Jerry Walks out to the rampway to a small pop. He looks around as he makes his way to the ring.
I'm useless but not for long
The future is coming on
It's coming on
It's coming on
It's coming on
Jerry now at ringside high fives a few kids in the front row before sliding into the ring.
Yeah, ha-ha
Finally, someone let me out of my cage
Now time for me is nothing 'cause I'm counting no age
Now I couldn't be there
Now you shouldn't be scared
I'm good at repairs
And I'm under each snare
Jerry goes to a corner waiting for the match to start.
The fans begin to boo loudly as "Superfical" by Heidi Montag hits over the public address system
It aint that easy, it aint that easy
it aint that easy, but it aint so hard
It aint that easy, it aint that easy
it aint that easy, but it aint so hard
Liam:
And their opponents, first from Hamptons, New York, standing at 5'9" and weighing in at 125lb, she is the Trillion Dollar Princess, Angel Kash!!!
As the lights dim and flash gold all over the arena, a lone spotlight forms at the entrance ramp as out from the back first steps Leroy with a stern look on his face. After a few moments, Todd walks out from behind him, looking nervous. As he claps within a few seconds in arrogant and exaggerated fashion, Angel Kash herself walks out as the fans boo loudly.
Hopin' out the maserati
All I see is paparazzi
Snapping pictures for the
Front cover of a magazine
So I pose in everything I wear
Love to make the people stare
Always center of attention
Lookin' so bootylicious
Angel blows an arrogant kiss to the fans before doing a series of arrogant poses at the top of the ramp. She then says something to Todd and Leroy as they first go ahead, before the arrogant rich blonde bombshell does an arrogant supermodel like strut down to the ring, taunting the fans as she walks by them, before rudely sticking out her hand, and flipping her hair arrogantly as she brushes past the fans, not letting them even come close to touching her. She makes her way up the ring steps with Leroy, holding her hand from the outside, as Todd is standing in front of her on the ring apron. Angel then points down as he holds the ropes for her; she enters and poses in the center of the ring as the fans boo loudly. After that, she lays on the top turnbuckle nonchalantly taunting the fans as Todd hands her a mirror and she admires her beauty.
Liam:
And her partner, from right here in Winnipeg, Manitoba…
The crowd cheers at a deafening volume.
Liam:
Standing at 6' and weighing in at 235lb, he is your Men's Avalanche Champion, "The Bounty Hunter" Stewart Mason!!!
Stewart Steps on the stage, wearing black pants and combat boots, and Black Vest, with Black Handwraps, he takes in the reaction of the crowd, and is joined by a female, together they walk to the ring, the female climbs the ring steps and steps through the ropes and walks to the center of the ring, Stewart climbs the ropes from outside and points to himself then climbs down from the ropes, and joins the female in the center of the ring.
Ding! Ding! Ding!
Arnaud:
The main event everyone has been waiting for.
Nora:
That's right a mixed tag team match with both champions on the opposite end. The winning team will have the champions partner be named the number one contender for the title.
Arnaud:
Jerry and Stewart will start things off for us… Angel changes her mind and tags herself in. Stewart smirks as he goes to the apron. Jerry has no choice but to leave the ring. Shelby comes in… Shelby runs right at Angel and hits a Running Side Jump Kick.
Nora:
Angel hits the turnbuckle hard as she then falls on her butt. Shelby runs back to her corner and gets on the middle turnbuckle to addresses the fans cheering her name.
Arnaud:
Angel gets back up and runs over to Shelby… Shelby bounces on the ropes and does a backflip flipping over Angel as hits the corner.
Nora:
Shelby places her finger towards her temple letting Angel know she is smarter… Angel walks over and extends her hand!?
Arnaud:
This has to be a trick.
Nora:
Shelby looks at Angel then at the crowd as they make it clear to Shelby.
Crowd: No! No! No! No!
Arnaud:
Shelby shakes her head no to Angel but Angel insist on shaking hands. Shelby looks like she is thinking… Wait, Shelby extends her hand and the two shake.
Nora:
Angle looks at the crowd pointing at Shelby with her free hand nodding as the crowd cheers…
Arnaud:
Angel Turns and hits a Clothesline on Shelby followed by an Elbow Drop. Angel gets up and looks down at Shelby pointing towards her temple now!
Nora:
Shelby grabs Angel's foot but Angel gets out before Shelby could lock some kind of leg lock. Shelby gets up as Angel runs at her. Shelby jumps for a Roundhouse Kick but misses as Angel ducks underneath and bounces off the ropes.
Arnaud:
Shelby takes two steps and hits a jump kick on Angel, Angel goes thru the top and middle ropes to the outside. Shelby gets on the top turnbuckle… Stewart heads over and pushes Shelby off the turnbuckle towards Angel.
Nora:
Face Blower (Face Buster) by Angel to Shelby!!!
Crowd: Holy Shit! Holy Shit! Holy Shit! Arnaud:
That was not right…
Nora:
And Jerry agrees as he gets in the ring and runs over towards Stewart and Spears him out to the outside floor. The ref yells at Jerry to leave the ring as Angel tosses Shelby back to the ring.
Arnaud:
Jerry drags Shelby to his corner and tags himself in this match. Stewart slides in the ring as Angel is forced to leave. Shelby rolls under the ropes still laying there looking out of it.
Nora:
The two get in the middle and tie up, Stewart knees Jerry in the gut! Stewart goes for a spinning heel kick but Jerry Ducks and grabs Stewart, Jerry hits a Belly To Belly Suplex.
Arnaud:
Jerry runs to the ropes as Stewart does a Kip up to get to his feet. Jerry bounces off the ropes to head back but gets hit with Stewart's Jumping Savate Kick!!!
Nora:
Stewart goes for the cover!
1..
2..
Arnaud:
Just a two count as Jerry kicks out. Stewart gets up helping Jerry up along the way… Jerry hits Stewart with a knife Chop to the chest. Jerry tries to send Stewart to the ropes but gets reversed. Jerry bounces off the ropes, Stewart lifts Jerry up and drops Jerry with a Spinning Spinebuster.
Nora:
Stewart goes for the cover as Shelby gets in the ring… Angel gets in as well, The ref tells the both of them to get out the ring as Stewarts is demanding the ref count. Jerry GOES for a Kimura Lock!!!
Arnaud:
Jerry has Stewart in the middle of the ring… Angel jumps in the ring and grabs Jerry by the ear and pulls on it to force Jerry to release the hold. Shelby gets in and Dropkicks Angel… Stewart gets up and tries to grab Shelby… Jerry turns to Stewart and grabs him from behind and picks him up for a Backdrop. Shelby and Angel get back to there corners. Jerry also goes to the corner to tag Shelby in.
Nora:
Angel jumps in the ring and the two run at each other. Shelby hits a Shoulder Dive to Angel which makes her stumbles a bit. Shelby goes to grab Angel but Angel grabs a fist full of Hair and Yacks Shelby down to the ground. Angel lets go as Shelby gets up… Angel kicks Shelby in the head while she was trying to get up.
Arnaud:
Angel goes for the cover.
1..
2..
Arnaud:
Shelby kicks out at two. Angel gets up while helping Shelby up by her hair. Angel goes for a kick but gets blocked by Shelby. Shelby lets go as she leaps forward hitting Angel with her Bicycle Knee Strike!
Nora:
Shelby goes for the cover!
1..
2..
Nora:
Angel kicks out at two! Shelby looks shocked, she goes to help Angel up but Angel pokes Shelby in the eyes!
Arnaud:
Shelby gets away holding her eyes… Angel gets up and grabs Shelby's heads… Buyout!!! (Implant DDT) Angel goes for the cover.
1..
2..
Nora:
Angel puts her foot on the ropes as Shelby ries kicking out!
3!!
Arnaud:
Angel steals this victory!!!
Nora:
Angel goes on to take on Shelby for the championship as Stewart gets to now decide who he feels is worthy of being the contender for his Championship!
Arnaud:
Make sure to tune in next week as Stewart picks his opponent, a contract signing between Champion Shelby Holt and the new contender Angel kash. A tag team match you all don't want to miss a possible new signing and much more… See you then…