Post by goldendragon on Aug 7, 2018 20:15:37 GMT -6
World Wrestling Organization (WWO)
All Star Sunday Night 8/19
vs
Red Dragon vs "The Golden Dragon" Shinjiro Yamamoto
Red Dragon wanted to make a name for himself at the last All Star Sunday Night but was interrupted by the returning Shinjiro Yamamoto. The Golden Dragon challenged Red Dragon to a battle to see who the best Dragon is.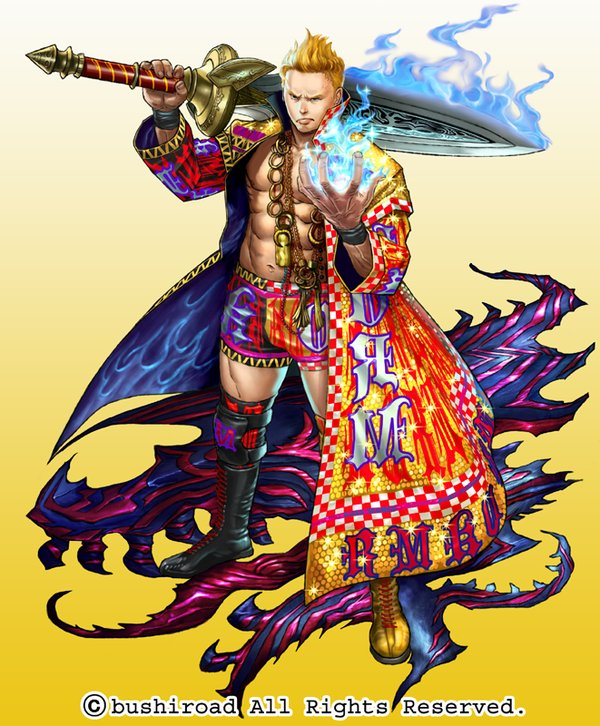 "It simply isn't an adventure worth telling if there aren't any dragons." ~ J.R.R. Tolkien

WWO Corporate Offices
Manhattan, NY
July 23rd, 2018


(Shinjiro hates to sit stilla and he hates to wait, but that is exactly what he is doing. He is sitting and he is waiting on "Thundering" Terry Marshall. Shinjiro sits in what is a small conference room, reserved for the top brass of WWO and for singing contracts with talent and sponsors. Shinjrio adjust the cuff of his white dress shirt under his sharp black suit and then looks around the room.

The walls are decorated with photos of some of the biggest names and moments in WWO history. Shinjiro scans the pictures taking them in, there is a photo of Rage hitting the one last ride on Outcast, a photo of Avalon Britton holding the WWO world title above his head. Then he sees a photo of Drake Hunter and Trent Adams holding the WWO tag team titles. Shinjiro feels his finger tips dig into his palms as he clinches his fist tight as his blood begins to turn to lava in his veins.
Shinjiro then moves on from the photo trying to calm himself. Next, Shinjiro sees a photo of Matt Reece and gives a slight smile as his temper lowers, but then Shinjiro reaches the middle of the room and see's a photo of his father Hahn Yamamoto holding one of the WWO tag team titles, below the photo there is a plaque that reads, "In Memory of Hahn "The Dragon" Yamamoto 1961-2017.

Shinjiro freezes for a moment, first he thinks about how amazing it was winning the WWO tag team titles with his father, and then the shame and dishonor he brought on his family when he had turned on his father. Shinjiro let's out a deep sigh and drops his head. A tear falls from Shinjiro's eye, rolls down his cheek and then drops onto the table.

Shinjiro then lifts his head, remembering the pride he felt when he made amends with his father, how he vowed to restore his families name. Since the WWO shut down Shinjiro returned home and made peace with his family. He had returned to work for his father's promotion in Japan, and became champion. Shinjiro still felt incomplete and his father could tell, and told Shinjiro that if he wished to return to America to continue to build his name then he had his blessing.

With his fathers and mother's approval Shinjiro had returned to America, where he made quite a name for himself capturing the Honor Wrestling Legacy championship. Shinjiro was in the middle of a long undefeated streak and building his name as one of the best wrestlers in the world when the night before a show, he received a call from his mother, who told him his father had passed.

The next day Shinjiro was defeated for the Legacy championship and flew home once again disgraced. Shinjiro buried his father, and stepped away from the ring and into an office to run his father's promotion. Eventually Shinjiro could not help himself and wanted to get back into the ring and felt the states calling for him to return.

When Shinjiro heard that WWO had reopened he thought it would be the perfect place to come back too, not only to come back to America, but to rebuild his families name and his own legacy in front of the WWO faithful. So, when Terry Marshall reached out to him asking if he would be interested in returning to WWO he jumped at the chance.

For now, though, he waits. Finally, the door of the conference room opens and Terry Marshall comes in shaking his head and looking flustered. Terry was a legend who went back not only with Shinjiro's father, but also his grandfather. Terry had been very good to the Yamamoto family and they had in return been very good to him. Terry obviously was still adjusting to the business life, as he was a life long competitor, then in talent relations, but now the responsibility of president was weighing on him.

This meeting is more informal than Shinjiro had expects. No press, no media, no cameras, no websites, not even a dirt sheet writer. Terry himself wasn't even wearing a suit, just a black polo with the WWO logo over the breast and slacks. Terry pulls out a chair across the table from Shinjiro and sits down a manila folder on the desk he had in his hand and pulls a pin from his pocket and sits it on top of the folder. Terry himself then sits down and scoots the chair in.)

Terry Marshall: Sorry to keep you waiting, had to finalize some advertisement deals for the upcoming All-Star Sunday night, you know it's not like me to keep you….
(Terry notices Shinjiro isn't even looking at him but is still starring at the photo of Hahn and the plaque. Terry looks at the photo and back at Shinjiro, then once more to the photo and back to Shinjiro. Terry clears his throat loudly and then seems to snap Shinjiro out of his daze. Shinjiro turns his head toward Terry, but before Shinjiro can speak Terry begins.)
Terry Marshall: Your father was a very good friend of mine. I used to travel with him back when I worked for your grandfather. Did you know the first time your father ever came to America for a tour he lived with me?
*Shinjiro perks up a bit surprised*
Shinjiro: I had no idea. I knew he always spoke fondly of you, and I remember you coming to our home several times when I was a child.
*Terry smiles, but his eyes show sadness*
Terry Marshall: Yeah, your father took care of me over there and I took care of him over here. Broke my heart when he passed. I'm so sorry I couldn't make it to the funeral, but my daughter just gave birth and I was recovering from shoulder surgery myself.
Shinjiro: I know, but my mother did receive the flowers you sent, and the very large check.
*Terry chuckles a bit*
Terry Marshall: Yeah, I got the check mailed back to me about two weeks later.
Shinjiro: You know her pride.
Terry Marshall: About as proud as your father was.
*Shinjiro smiles and shakes his head in agreeance. *
Terry Marshall: Well look, I'm sure you will find this contract very much to your liking. Money is very fair, the dates are good.
Shinjiro: You know I'm not in it for the money.
Terry Marshall: Yeah, but the money doesn't hurt now does it?
(Terry smiles as he slides the folder across the table to Shinjiro. Shinjiro catches the folder and opens it up and looks over the pages of the contract. Shinjiro then lays it down on the table and smiles back saying "it doesn't hurt at all". Terry laughs a bit and then twist the pen which ejects the tip to sign with. Terry then hands the pen across the table to Shinjiro. Shinjiro flips to the page of the contract where he will sign and places pen to paper, but stops before signing and looks up at Terry.

Shinjiro lays the pin down and sits up straight pushing the contract back a bit. Terry's face changes from happy to confused.)
Shinjiro: Before I sign this, I want your word on something Terry. You don't even have to sign it, I just want your word on it.
Terry Marshall: You know my word is a stronger than any contract. What is it you want me to put my word on?
Shinjiro: I want to be able to prove myself to the WWO fans. I want to be able to show them that I am not only a great singles wrestler, but one of the best wrestlers in the entire world. Most importantly I want to be given an opportunity to restore my name and my honor. I'm not asking for a title match, I'm only asking for an opportunity to prove myself.
*Terry smiles from ear to ear, his smile then turns into a chuckle as he leans his chair back. For the first time since entering the room Terry looks relaxed. *
Terry Marshall: That I can promise you. There are a lot of people here who want to make a name for themselves here, but you are the only one who wants to restore honor to your name. I'll give you that opportunity and I'll never ask you to do something to disgrace your name either.
(Shinjiro says nothing but nods his head in approval. Shinjiro pulls the contract closer to him and quickly signs his name. Shinjiro then closes the folder and twist the tip of the pen back in. Shinjiro stands up picking up both the folder and pen. Shinjiro walks over to Terry Marshall who has sit back up. Shinjiro places the folder and pen in front of him and then places his hand on Terry's massive shoulder. Terry looks up at Shinjiro as Shinjiro looks down at him. Shinjiro smiles at Terry.)
Shinjiro: That promise alone is worth more than the money that contract will pay me. I promise you that you will not regret this and that I will prove myself once again, and once again make the name Yamamoto a internationally respected name.
(Terry smiles and nods his head in approval. Shinjiro removes his hand and walks out of the conference room doors as the scene fades out.)

Niagara Falls
Niagara Falls, Ontario Canada
August 7th, 2018

(Shinjiro stands on one of the many decks that overlook the massive falls. This is normally a huge tourist attraction, and today is no different. Thousands of people are at the location of the second biggest water fall in the world. Shinjiro has done a good job of blending in, as he is not dressed flashy but instead wearing jeans and a plain grey t-shirt along with sunglasses to cover up his face. The cameras of course draw some attention but this can be expected.

Shinjiro leans up against a rail of the deck and overlooks the falls. His head does not turn to the camera but instead stays focused on the water. The sunglasses hide the emotion in his eyes, but his face appears very stone like, looking more like his father than ever before.)
Shinjiro: The amount of electricity the power plants at Niagara Falls have the capacity to output is close to four point nine million kilowatts. That's enough to power three point eight million homes. On the US side, plants have a capacity of roughly two point seven million Kilowatts, while the Canadian side's combined capacity is close to two point two million kilowatts. Over three thousand tons of water flows over Niagara Falls every second. ... The water falls at thirty-two feet per second over the Falls, hitting the base of the Falls at over two thousand tons of pressure.
That is power, that is true force. The kind of power and force that a human mind cannot truly comprehend. We can look at the numbers, and we say "wow that is powerful", but we do not truly understand that power. The same is also true for the spirit of a dragon. People an look at a dragon's spirit and say "wow, that is powerful" but a human mind cannot truly comprehend that.
My question though, is do you share the true pride and spirit of a dragon as I do Red Dragon? I'm sure I already know the answer to that question, and the answer is no you do not. Someone with pride and honor would not attack a man after he had just finished battle with someone, especially if that person had just been beaten badly and possibly injured. There is no pride in that, there is no honor in that, and it damn sure didn't impress anyone.
I understand you wanted to make a statement, that you wanted to make a name for yourself in WWO and make a big impact. You thought that by attacking Anthony Duarte after his match you could impress people, or better yet strike fear into the hearts of everyone in the locker room.

(Shinjiro pushes himself off of the rail of the overlook deck and turns to face the camera. Shinjiro pulls his sunglasses off and looks dead into the camera. His eyes pierce into the camera and almost appears as if flames are burning in his eyes. He speaks again and this time his tone is angrier.)
Shinjiro: Well if striking fear into the hearts of people in the locker room was your mission, then you failed. There is a reason I picked that exact moment to come out and interrupt you, and that is because you do not deserve the make a statement, and you did not deserve the limelight. What you did was act like a coward, and at All Star Sunday Night I will expose you as a coward. You think that after you attacked an injured man you get to speak your mind…wrong.
What you did was disrespectful and you clearly have no respect. No respect for this sport, no respect for the WWO, and no respect for the fans. You disrespect this sport, this sport that I have spent my entire life in, this sport that my family and I have given blood, sweat, and tears for. This sport that my father gave his entire life too from the day he took his first breath to the day he took his last breath right in the middle of the ring in Tokyo.
You have no respect for the World Wrestling Organization ether. This place was good enough to give you a shot, good enough to pay you while letting you live a dream that millions of people around this world have. How do you repay them? By disrespecting another talent, and desecrating their ring with your actions. Then you disrespect them by thinking you can just say whatever you wanted, but I wouldn't allow that.
Finally, you disrespected the fans by your actions. The fans felt bad for Anthony Duarte, and then you come down and attack him. Sure, your moves were nice, but how will you be able to preform them on an abled body opponent?
("Excuse me…are you Shinjiro Yamamoto" a voice interrupts. Shinjiro snaps his head around and sees a man standing with what appears to be his young son. Shinjiro still has the intense look on his face and fire in his eyes that startles the man. Seeing the man with his son Shinjiro calms himself and eases his face. Shinjiro gives a friendly smile and says "yes I am".
Seeing the smile, the man smiles himself and feels more at ease. "Is there anyway I could get a picture with you? I'm so glad you are wrestling in North America again." Shinjiro nods his head and says "Thank you, and yes of course". The man pulls out his phone and hands it to a woman with him who appears to be his wife. The man and his son then pose with Shinjiro, "make sure we get the falls in the background" Shinjiro says in a joking manor.

The man thanks Shinjiro and Shinjiro shakes hands with the man and the son and watches them walk off with the woman, both the man and the son wearing huge smiles. Shinjiro watches them walk away and looks back at the camera with a smile. The smile though quickly fades as the seriousness returns to his face and the fire begins to spark in his eyes again.)
Shinjiro: That is what it is all about Red Dragon. It is about putting smiles on faces and about testing ourselves against other men with honor and respect. You clearly though have no honor or respect, so at All-Star Sunday Night when we step into the ring together I will gladly beat respect into you. Anyone can look impressing hitting a big move on someone who is already tired and injured, but it takes a real man to stand toe to toe with a real Dragon.
You defile the name Dragon, it is a name my family has built since my grandfather helped start professional wrestling in Japan, a name we have fought and shed blood for. Then someone like you comes along, someone with no honor and no respect and you start calling yourself a Dragon and it does nothing but hurt the Yamamoto name. Well if you want to hurt my families name than I will gladly hurt you.
I will show you what a man with true honor and respect can do in the ring, and I will remind all of the WWO fans what the Golden Dragon can do inside that ring, and as good as I was when I was in WWO nearly five years ago…I have only gotten better. I am in the best shape of my life, my skills are sharper than a Samurai sword, and I will run straight through you Red Dragon. I am a real dragon, and you are an imposter who will find out what it is like to be engulfed in flames when you step into the ring with me.
I've got a lot to prove now that I am back in North America. I am proving myself in Honor Wrestling and I am going to prove myself here. The WWO is the first place I ever wrestling in America, and it will forever be my American home. You have come in and disrespected my home, and when a man comes into your home you must stand your ground and defend it. You have brought too much disrespect and dishonor to the Dragon name, to my sport, to my fans, to the company I work for, and to my home.
For these actions you must be punished, you must and you will be a hefty fine. The fine will not be one of money, it will be one of flesh. I will extract my pound of flesh for the sins you have brought against me, and I will extract it in the middle of the WWO ring at All-Star Sunday Night. The penalty for your crimes is death, and it is not death by firing squad, death by electric chair, or death by lethal injection. No, it is none of those it is something much more fitting for someone like you and the death that anyone who fights a dragon suffers.
(
Shinjiro puts his sunglasses back on and turns looking out at the falls once again.)
Shinjiro: The lead up to your death will be slow, and it will be painful. Then when I feel you have paid your debt and you have learned you lesson. When I feel that respect and honor have been beaten into you, then and only then will death come. That death will be one that many have suffered over the years and one that many will suffer for years to come…and that is a flaming death.
(Shinjiro turns his head back to the camera pulling his glasses off showing the fire that burns in his eyes. Fade out.)