Post by Tad Ezra on Jun 30, 2018 1:28:09 GMT -6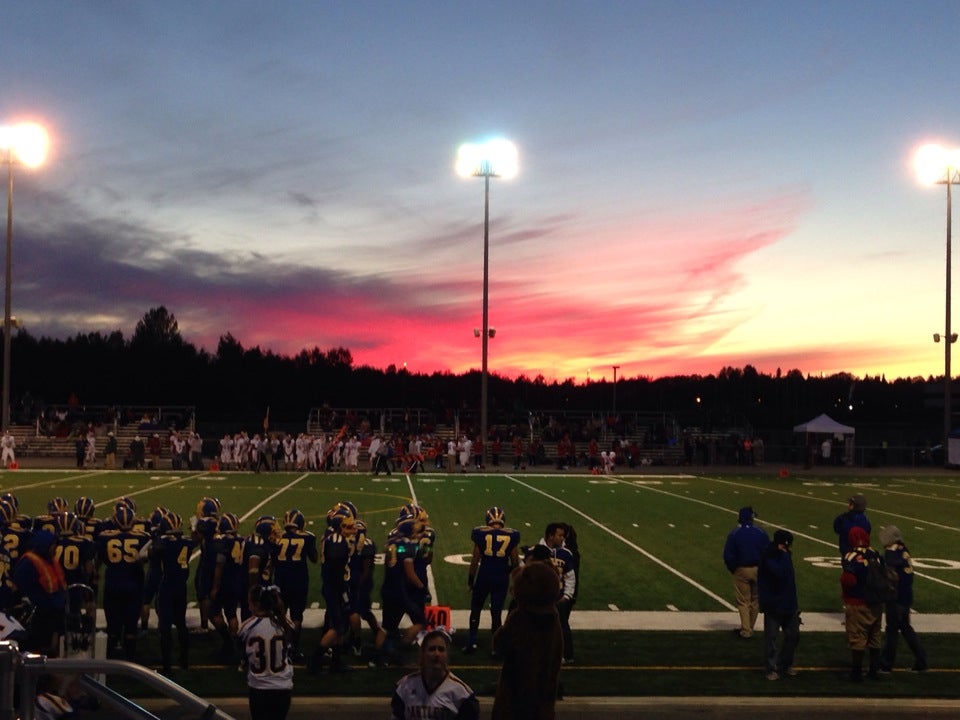 Northern Lights Wrestling Avalanche - 4th July, 2018 - Anchorage Football Stadium - Anchorage, Alaska, USA - Capacity: 6,500 (Sold out)
Segment Deadline Tuesday 19th June, 2018 11:59pm
(If you are unsure of what to do, but would like to have your character involved, you are encouraged to PM me. In some cases, I will PM you with specifics, but don't be afraid to show me what you've got)
---
It is the 4th of July, so Northern Lights Wrestling has crossed the border for the American holiday, given many of the stars are American. We can expect a fireworks display and a performance of the national anthem to kick off the show.
---
OR
Vs
OR
Tim Staggs or Dax Beckett Vs Mason Fox or Jason Fox
Tonight is a night full of surprises, so it is no surprise that we kick things off... with a surprise! The Bad Boys have been known to use the Freebird Rule to catch their opponents by surprise in the past. We like the way they think! Tonight, they get to see how that feels when the Fox Brothers get to decide who they are going to face in the opening match of the night.
---
14th July, 2018 is just around the corner, and that means
Supernova
is coming in hot. From Canadian Forces Base Kingston, in Kingston, Ontario, Canada. We can expect more news regarding this epic Northern Lights Wrestling based Pay-Per-View
---
Vs
Dorian B Vs Ahuevo
A first time match up occurs tonight when Dorian B takes on former Number One Contender, Ahuevo. Ahuevo has enjoyed much success, while Dorian has yet to taste the fruit of his labor. Just as Ahuevo found his groove and took Stewart Mason to his limits at
Honor Wrestling Presents: Turmoil
, Dorian B is one big win away from becoming the next big thing.
---
Vs

Jerry Cann & Rory Rockefeller Vs Eric Weaver & Kader Hasheem
It was announced that former
Northern Lights Wrestling
stars who were called up to
Honor Wrestling
in the form of Kader Hasheem and Rory Rockefeller, will be taking one another on at Supernova! As if the one on one match wasn't enough to be excited about, things got very heated from this past week on Showdown when Hasheem pushed Rockefeller down a flight of steps to "even the odds". To see how these two match up, they will meet inside of the
Northern Lights Wrestling
ring. But they will not be alone. Jerry Cann will team up with Rockefeller, while Eric Weaver will be teamed up with Hasheem. It should be interesting to see how these teams match up leading into
Supernova
.
---
Vs
Stewart Mason Vs "Shorty" Devin Tyler

Avalanche Championship Match

"Shorty" Devin Tyler shocked the world when he cashed in his briefcase for the golden opportunity to become the Avalanche Champion. However, Stewart was not only disgruntled with losing the title, but he was flat out "pissed off" about how it all transpired. He has invoked his rematch clause to call "Shorty" out on the spot. "Shorty" has got a bounty on his head, and the cost just might very well be the Avalanche Championship. Will "Shorty" stack up, or will Stewart knock him right down?
---
VS

Three Mystery Women

Avalanche ChampionshipAngel Kash & Melissa Ruin & Chanelle Martinez Vs Three Mystery Opponents
Brooke Saxon took to Twitter while Avalanche Champion, Angel Kash, and Melissa Ruin were gloating about their successes. She suggested a Six Woman Tag Team Match worthy of a Main Event slot. Tad Ezra liked the idea so much that he booked it! And, he also added that Angel Kash would have to defend her Avalanche Championship. Should any of the mystery opponents pin any member of
Nobility
, they will become the new Avalanche Champion! Since it was announced, several names have volunteered to put their hats in the ring. Will any of them get the chance to knock the champ down a peg and take what she's staked her claim to? Or will
Nobility
prove that they are worthy of the name?
---
Tune in for this and oh so much more on Wednesday, 4th July, 2018!