Post by Henry Saxon on May 5, 2017 7:44:15 GMT -6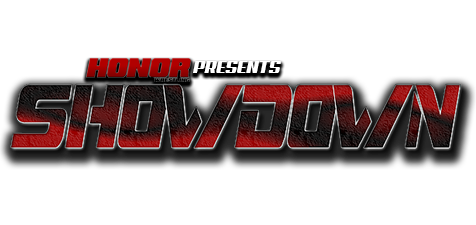 RP Deadline: May 16 2017 11:59 EST
Show Date: May 17 2017
Live From Neal S. Blaisdell Center, Honolulu




Justin Jones vs Blasted Monk
Card opens up with Justin Jones and Blasted Monk. These two finally get to face each other in the ring. Both men were set to take part in a battle royal one month ago but it got canceled due to contract issues with Spike TV not allowing a BR in fear it can get out of hand. Well now they will get to see them in a one on one match.


Kevin Hunter vs John Blade
Kevin hunter a man who is returning to Honor as he was part of the company when they opened, of course you wont need to tell John Blade that, as Mr. Blade was here back then as well. Had Honor not closed Kevin may have had a whole army of chaos right about now... That was then and this is now. For now can the returning Mr. Hunter get a win over Big Match John or will John Blade score yet another victory under his belt.


Alex Reigns vs Teddy Steele
Yet another return in Alex but unlike Mr. Hunter there is not much known about him. When new owners took over they were not able to obtain all the company files just yet. As the Saxons still try to find more info on him. One thing we do know is that he will be tested by the party man himself Teddy Steele


Debbi & Stacy Ruins vs Synn and Sam Tolson
The Ruins Twins signing a deal as the last show went off the air brings new faces to the women's division. They will be tested by Synn a new comer who had been impresses so far in Honor and elsewhere and her partner former Honor Wrestling Champion Sam Tolson. Sam will be getting her rematch next Showdown on May 31 but for now Sam and Synn will team up for the first time in Honor Wrestling. Will the Ruins Sisters be able to come in and shock us all or will the impressive rookie and former Champion make examples out of them?



Non Title Match
Tiffany Prada vs Courtney Lienart
Courtney may not be defending her title this show but will be the next show as Sam Tolson will get her rematch. A win against Tiffany a former champion herself can go a long way. For Tiffany no matter what happens next Showdown, Tiffany will be in the Main Event at the PPV as the number 1 contender for the title. Can Tiffany come out on top or will Courtney put Tiffany down?


Steel Cage Match
Earl Lockyer vs Thomas Miller
Earl the veteran of Honor Wrestling the man that can be looked at as the leader in the locker room. He will take on Thomas Miller, a man who may only have a record of one win, one lose, and one tie, but the impact he has been as been a reckless one. Now locked in a steel cage with the veteran Earl Locklyer, Thomas Miller my be thinking twice.


Honor Wrestling Championship
Mark Strom vs Eyesnsane
Eyesnsane will defend his Honor Wrestling Championship title in the Main Event. Some may question why Mark Storm, this is his first match. Well it is not his first match. Mr. Storm is returning since the closing. Before the closing Mr. Storm was on his way to a championship match. Can Eyesnsane walk away with his first title defensive or will Mark Storm walk in having a return match and walk out the champion?