Post by Henry Saxon on May 19, 2017 8:54:29 GMT -6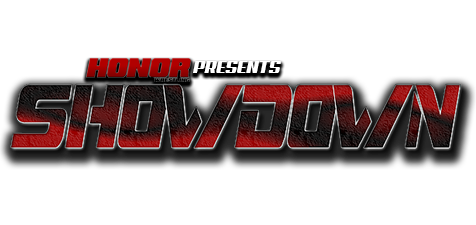 Live at Lahaina Civic Center - Maui County, Lahaina, HI
Show Date May 31 2017
Promo due date May 30 2017 11:59 pm EST
Shinjiro Yamamoto vs Blasted Monk
Opening match should be a good one Shinjiro, the newest member of Honor Wrestling a multi time champion while in other respectable companies he comes to Honor to try his luck. Can the vet who was born in the sport as his father was also a professional wrestler beat the Blasted Monk. The man born into the world of Kung Fu. A man who has been with Honor since being drafted to Mayhem before being moved over to Showdown.


Dahlia Rotten vs Debbi Ruin
The Ruins Sisters want Synn and Sam again but that will not be happening. Instead Debbi goes in the ring one on one with Dahlia Rotten. Sahila has been on a role the past few matches. Will that continue? Or, Will Beddi pull an upset in her first singles match?


Karma vs Stacy Ruin
Stacy like her twin sister will go into a one on one match. She takes on Karma one who can get a pin fall in the blink of an eye. The two will see which one can outsmart the other for a victory


Kevin Hunter vs Red Dragon vs John Blade vs Earl Lockyer vs Teddy Steele vs Justin Harmony
6 men in one match. Lets just say there is a reason for this mess. What kind of match will this be and for what? Brooke Saxon will explain to everyone on Showdown.

James R Knight vs Justin Jones vs Eyesnsane
Eyesnsane may have lost the title last Showdown but he will get his rematch at the PPV(The Kingdom of Hawaiʻi) for now he has to take on two men who would like to take out this former champion. Justin Jones and Jacob Johnson has been quiet as of late but a win here for either of them will have them making all types of noise

Synn vs ??
Synn looks like she has a match of the unknown, but it will only be unknown to the fans. The wrestler has been impressed with Synn's work in the ring and reached out to Brooke Saxon for a one match deal. This is not a match of hatred but one of respect. Synn will get a call from her opponent on Monday while the Honor fans will have to wait and find out who this person is at Showdown.

Non Title Match
Three Way Match
Jacob Johnson vs David Key vs Mark Storm(c)
Brooke is all about fair play. Mark Storm the new Honor Wrestling Champion defends his title at The Kingdom of Hawaiʻi (PPV) when Eyesnsane gets a rematch. To keeps things fair as the Champ is also in a three way match. Like Eyesnsane Marks opponents have been quiet as of late. The champ may not have the title on the line but a win by David or Jacob may have Brooke rethinking who gets a shot next for the championship.

Main Event
Honor Wrestling Championship
Sam Tolson vs Courtney Leinart(c)
The Main Event that has PPV written all over it. So much so that no matter what both the Honor Wrestling Champion Courtney Leinart and Challenger Sam Tolson will be in a three way match at the The Kingdom of Hawaiʻi PPV as one of them will walk in as the Champion and face each other with Tiffany Prada as well. The question now is which one of these two ladies will be the one walking into the The Kingdom of Hawaiʻi Main Event as the Honor Wrestling Champion?